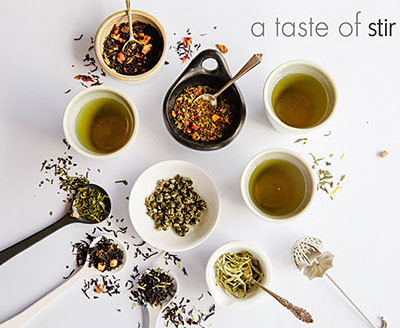 At Stir Tea it is our great pleasure to help you choose a tea – perhaps a new tea for yourself or maybe a gift for someone else.
In our experience we find the flavour preferences of loose-leaf tea drinkers are unrelated to any age or gender stereotypes. We have outlined some steps below that we hope assist you to refine your search to arrive at the perfect tea.
Throughout our website you will find detailed flavour guidelines outlined. We recommend you read our full article and the suggestions we offer throughout to help refine your search.
Things to Consider When Buying Tea
Where to start - let's narrow it down:
1. Caffeine or No Caffeine – what is the preference?
Congratulations, if you know this answer you have just made your life a lot simpler.
There is often confusion about whether tea leaf contains caffeine or not. The fact is that all tea leaf whether it is black, green, or white contains caffeine. When we are referring to "tea" we mean the leaf of the camellia sinensis bush.
Where camellia sinensis is not an ingredient then that product is known as a tisane and is caffeine-free. We refer to this group in our range as Herbals and Fruits range (you will also hear them referred to as Herbal Teas).
(a) For caffeine preferred drinkers:
We offer an extensive range of tea leaf styles that we hope you enjoy exploring and drinking.
If you are buying a gift, it can be helpful to think about what you may know or have observed about the tea drinker. What style of caffeinated tea do they enjoy or do you recall them drinking?
(b) For no caffeine preferred drinkers
We offer an extensive range of caffeine-free blends which you can explore in the Herbals and Fruits section on our website.
2. Pure leaf (unflavoured) or flavoured - what to choose?
(a) Pure leaf:
Think about the individual – are you (or the person you are buying for) a purist that enjoys the complexity and layers offered by pure leaf, with no added flavours.
If yes, avoid any flavoured or scented blends, instead focus on the incredible aromatics skilfully crafted into the natural leaf. Here are some pure leaf flavour profiles to consider:
(b) Flavoured and scented blends – a little something for everyone
Some people have a signature flavour that is immediately associated with them. Perhaps for example it is rose or vanilla, spice, fig, mint or citrus. This is helpful and we have a number of flavours pictured on our website that will offer a beautiful visual cue or you can narrow your search by entering any ingredient into the "Search Products" field to be able to view the blends in our range that contain that ingredient.
If a flavour or aroma does not immediately come to mind think about this question in the culinary sense. If you were choosing a cake, what flavour would you pick? Be led by this.
Perhaps savoury is enjoyed over sweet. If this is the case then the savouriness of a pure green tea might be well suited, otherwise some starting flavour suggestions to help you choose:
3. Tea for all seasons:
A hot cup of tea is the perfect beverage to enjoy all year round, however iced tea really comes into its own during summer or party season. If you are wanting to choose the gift that is fail safe for preparing iced tea with then we would recommend starting with something from our Herbals and Fruits range. As the iced teas are mastered then we suggest moving your attention to tea leaf which requires a little more care and attention.
4. Buying for someone who loves all tea or if you are still unsure:
Be led by the visual cues of the dry leaf pictured on our website or allow the descriptions of our flavours and ingredients to tantalise your taste buds.
If you find it impossible to choose then we have made it easier for you by creating a range of Variety Packs. These boxes contain six mini packs of our most popular tea and tisane blends, and we offer these in a number of combinations. Or create your own curated gift with a selection of our discovery bag sizes.
5. Create the perfect gift:
A gift of tea is very special and is perfect for so many occasions. If you wish to accompany your tea with some home-made baking then we have a number of delicious bakes treats on the recipes section of our website for you to make and add to your gift.
If you wish to add a brewing solution to your gift, we offer a range of mesh tea infusers on our tea accessories page.
We'd love to help you select your tea gift. Feel free to contact us directly or visit us at Remarkables Market. We look forward to talking tea with you.
Posted: Tuesday 14 November 2023