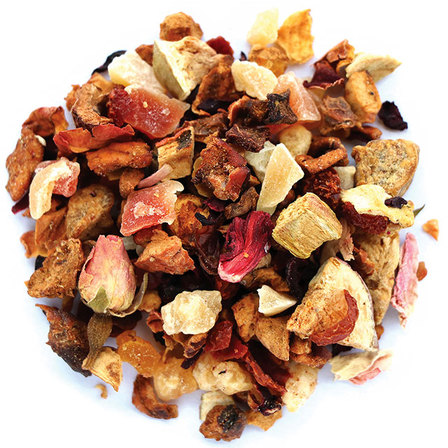 Fig & Rose
A very pretty and succulent combination that is bursting with flavour and goodness. Caffeine free, this blend is also delicious iced.
Ingredients: Fig (Turkey), rose (China), apricot (Turkey), cinnamon (Sri Lanka), apple (Turkey), pineapple bits (Thailand), rosehips (China), rhubarb (Turkey), almond (Turkey).
Note: Contains Nuts
Read more about this blend below:
A little more about this caffeine free blend ...
Something about the combination of figs and roses makes this feel a rather indulgent and magical mix. There is no mistaking the presence of figs in this blend.
Fig and rose have been known to be therapeutic for the skin and hair. Pineapple and almonds are considered anti-inflammatory and offer detoxifying properties. The antioxidant profile in all the elements of this blend may help to support the health of the skin.