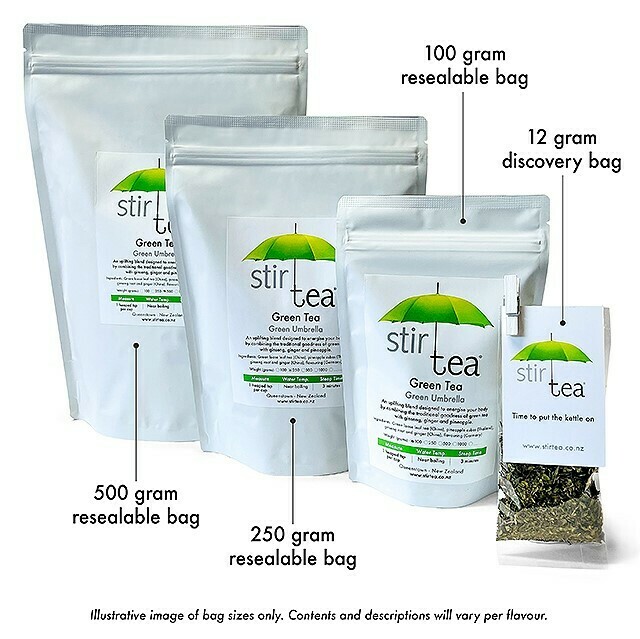 You can purchase each of the flavours in the Stir Tea range in 4 bag sizes depending on your needs.
Discovery Bags - these are smallest size in our range and are the perfect way to try a new flavour or offer as a gift to a tea loving acquaintance. Generally they contain 12 gms. **
Standard Retail Size - For the majority of flavours in our range the bag contains 100 gms. ** This is the bag size you may have seen if visiting us at Remarkables Market or in cafes that offer Stir Tea for sale.
** Some speciality flavours are offered in smaller standard quantites than these sizes. This includes our White Tea range, Jasmine Pearl, Butterfly Pea and Peppy Mint. The size will be clearly noted when you are browsing our products.
Bigger Discounted Bags: For clients who have found their favourite Stir Tea flavours they enjoy discounts on our larger bags - purchase a bag that is 2.50x bigger than the standard size and save 10%. Go 5 x bigger and save 15%.
How to purchase:
Simply go to your flavour of choice as you normally would and select from any of the bag size options on the product page. Repeat this process for each flavour that you would like to experience.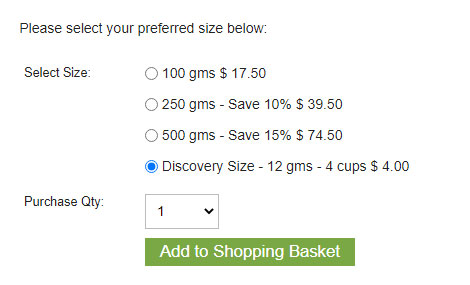 Posted: Monday 6 March 2023