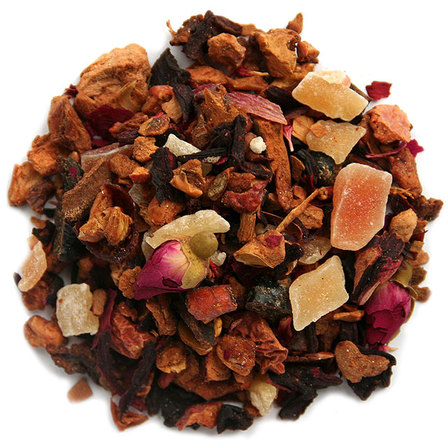 Rosie Plum
Brighten up your day with this naturally sweet and scrumptious combination.
Ingredients: Hibiscus (China), rosehips (China), cinnamon (Sri Lanka), rose (China), sunflower (Germany), pineapple (Thailand), plum (Phillipines), apple/beetroot (Turkey), natural flavouring (Germany).
Please note this blend is produced in a factory that also handles nuts.
Read more about this blend below:
A little more about this caffeine free blend ...
This blend lends itself very well to being the star of your party. We have used in a formal party setting as the welcome drink. We brewed as we would for an iced tea and then immediately prior to serving topped up the glass with bubbles - either soda water or champagne. It is always a great success.
The elements in this blend may assist to support cardiovascular and cognitive health. This combination of antioxidants can support the immune system and may also help to reduce oxidative stress. This blend may assist with digestive health.