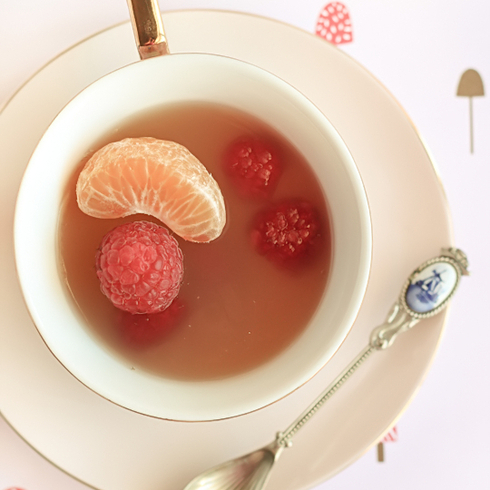 Hello Fellow Tea Leaf Lover

As we roll through February and the challenges that Mother Nature has presented across New Zealand I hope you are finding time to enjoy some quiet tea moments.

In this newsletter our technical article covers whether drinking tea can affect your body's ability to absorb iron from food. In our tea lifestyle section we reminiscence over tea traditions & folklore, dive into tea jellies with our delicious jelly recipe and gain insight into projected food and drink trends for the year ahead.

We invite you to pop the kettle on for a cuppa and have a read.
Best wishes
from Michelle and the team
Stir Tea, Queenstown
IN THIS ISSUE:
Tea & Iron Absorption

Tea Traditions & Folklore

Tea Inspired Recipes

Stock Updates and Teas of the Moment

Tea Trends and Stir Thoughts
Tea and Iron Absorption
Tea, like fruit and vegetables is a natural source of polyphenols and flavonoids and is prized for the positive health benefits it may offer. With the growing interest in eating more plant based foods it is timely to consider whether drinking tea (camellia sinensis) could impact on the ability of your body to absorb iron from plants.
It is important to note that there are two different types of iron found in food. These are known as haem and non-haem iron and each interact differently with your cup of tea.
Haem iron, present in good amounts in meat, offal and meat products, is readily absorbed and unaffected by tea drinking.
Non-haem iron found in cereals, vegetables, dried fruit, legumes and nuts is less well absorbed and its absorption is influenced by a wide variety of dietary factors which include enhancers e.g. Vitamin C (present in fruit and fruit juice) and animal tissue (meat), and inhibitors e.g. phytate (bran) and tea (polyphenols) and others.
Practical advice for tea drinking in relation to iron status
There is no evidence to suggest that tea drinking should be restricted in healthy individuals who are not at risk of iron deficiency and are consuming a well-balanced, mixed diet.
People who have a poor iron status are advised to avoid drinking tea with meals and up to at least one hour after the meal. Any adverse effects that tea may have on iron absorption are then likely to be minimised.
Moderate tea drinking (3-4 cups) spread throughout other times of the day is unlikely to have any adverse effect on iron status.
Tea in the context of this article includes black, green and white tea leaf (camellia sinensis) rather than herbal and fruit blends.
We have more technical information available on our website where we share an in depth article from The Tea Advisory Group funded by the UK Tea Council
click here:
Tea Traditions & Folklore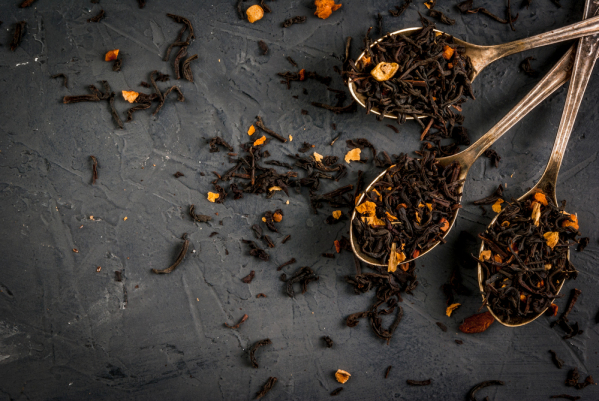 Accidentally spilling tea leaves inside your home is said to give you good luck or so the saying goes.

Tea folklore is often shared over a cup of tea and becomes imprinted in a family's DNA connecting us with our culture and heritage.
Read more examples of shared Tea Traditions and Folklore in our blog
here
including tea as a parting gift placed in coffins and my own family tradition.
Delicious Tea Inspired Recipes
Mandarin Jasmine Pearl (Green Tea) Jelly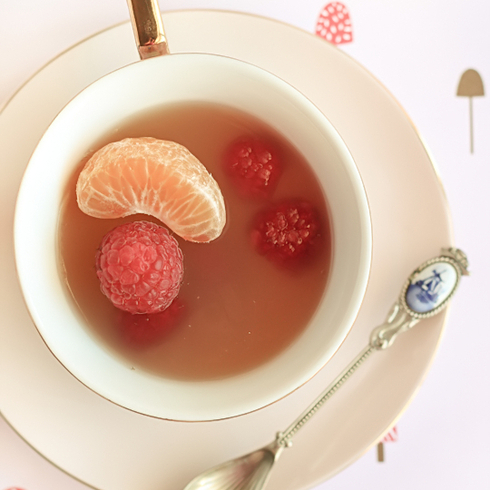 Brewed tea makes a great base for any jelly, adding colour and depth of flavour, and it looks beautiful presented in a tea cup for a special occasion tea party. We are big fans of these fun and flavourful desserts - you may recall our crimson berry super jelly recipe from years ago that we whip up every berry season to very appreciative guests

We hope you enjoy this new delicious Mandarin Jasmine Jelly recipe using our Jasmine Pearl Green Tea
Heavenly Lemon Chia Cold Drink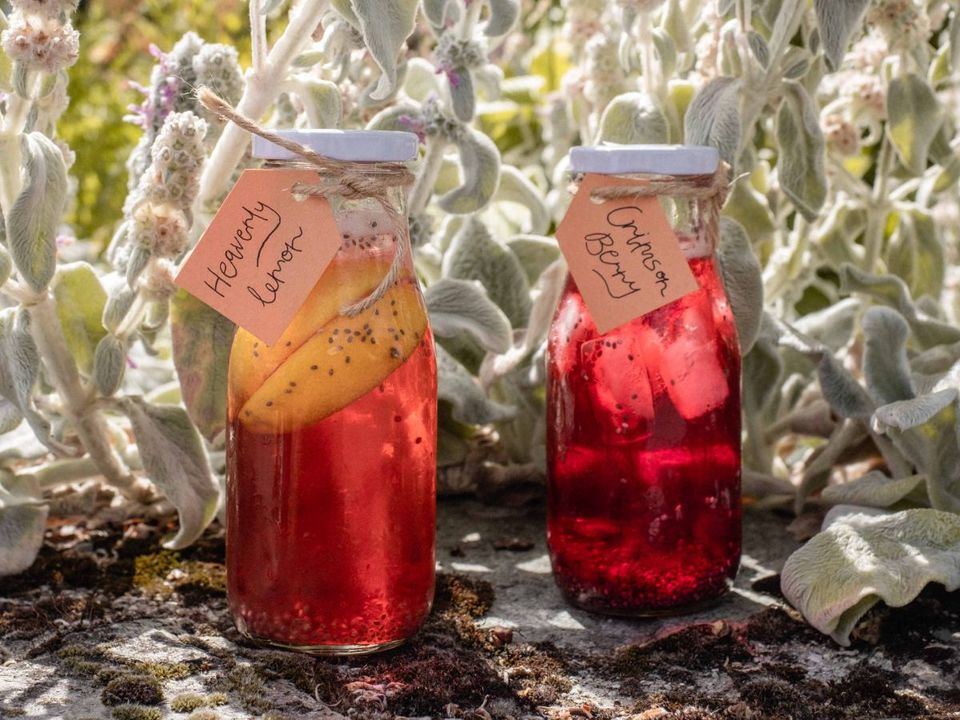 Our caffeine free blends of Heavenly Lemon and Crimson Berry are perfect for an iced drink on the go. We like to add in a few chia seeds for a little extra energy making it the perfect post workout drink. Try these delicious refreshing and energising drinks on your next summer day adventure or late evening stroll. Try this simple recipe.
Stock Updates

We hold good stock of most tea and blends with the following special mentions:

Black and Single Estate Black Tea:
Limited Stock held of: Masala Chai, Yunnan Gold and Yunnan Orange Pekoe

Green Tea:
Beautiful new stock of our Japanese Teas -
Sencha
and
Genmaicha
has arrived this week. We are about to place our next
matcha
order so if you would like to try some of this extremely high quality product directly from the source in Japan then please let us know urgently. All the Japanese teas are from our wonderful high quality suppliers that we have visited and spent time with.

White Tea:
A new shipment of our pure silver needle and white peony teas are expected to arrive in 14 days. We hold good stocks of the very popular
White Tea Pomegranate
. but are sorry to advise that we will be discontinuing White Tea Cranberry in the near future. We are working on a new white tea blend.
Herbals and Fruits
(caffeine free) - our stock is at good levels and our new shipment of
Peppy Mint
has just arrived. We have added the colourful butterfly pea flower to our botanicals range - read more about this spectacular flower below.
Complimentary sample with online order -
our blend of the moment is the beautiful caffeine free
Heavenly Lemon
. You can choose this as your complimentary sample to try when you order online in February. It is delicious enjoyed either hot or over ice.
What's brewing at Stir:

New Release : Butterfly Pea Blueflower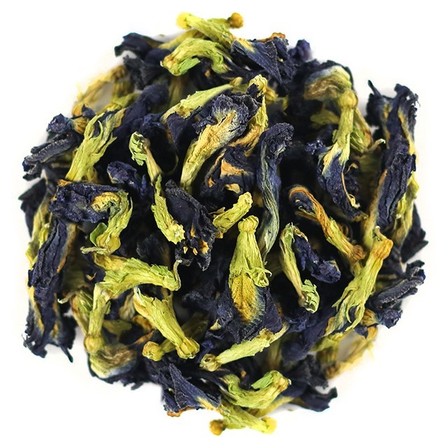 We have added the fascinating
Butterfly Pea Flower
to our
Herbals & Fruits
range. Traditionally the liquor has been used in the treatment of memory loss and stress. The taste is quite delicate and gentle however more recently it has found favour because the beautiful vivid blue colour liquor lends itself so well to dramatic mocktails and iced teas. Adding acidity in the form of fresh lemon juice to the brewed liquor transforms the vivid blue into purple or pink.
Tea Trends and Stir Thoughts: 2020 Picks

Flavour Profile - what is Hot!
Here are some trends brewing for the current year which we are really encouraged to see as part of a fun, healthy tea lifestyle:
Colourful drinks are always popular and very much a continuing trend for the foreseeable future. The old saying of eat the rainbow now extends into drink the rainbow also. The Pantone Colour Institute has announced that its 2020 colour of the year as Classic Blue, a deep blue shade. We think our new butterfly pea tisane offers the perfect shot of colour for your beverage base.

Reduced food waste - parts of plants once overlooked or discarded will be increasingly used - think beet greens added to smoothies along with any left over brewed tea.
Zero alcohol cocktails - expect to see more zero-alcohol cocktails on offer with the focus on pairing of flavours and building layers ingredient by ingredient. Tea has an important role to play in these and often appears as a concentrate.
A fusion of skills - a Chef walks behind the bar - this may sound like the start of a joke but it is not. Drinks techniques are being influenced by cooking techniques to create complex and well-rounded sipping experiences - elevating elements once considered in a secondary role of a garnish to another role as an additional primary flavour.
Subscriber Draw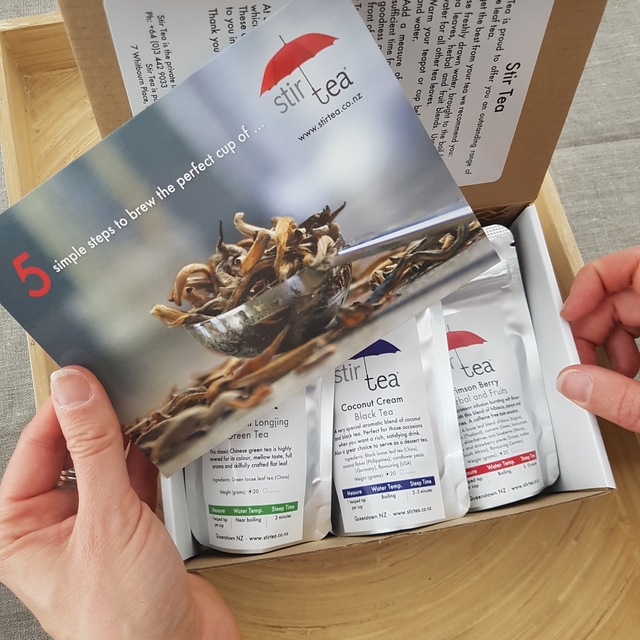 Thank you for subscribing to our Newsletter. By subscribing you are automatically in our subscriber prize draw for the chance to win one of two
Stir Tea Variety Packs
(your choice from our Black, Green, Herbals and Fruits or Mixed Selection). We shall make this draw on Thursday 27th February and the winner will be contacted directly by email. We will also announce the winner on our Stir Tea Facebook Page. Follow us on facebook
here
Parting Thought from Michelle
Gestures of love and kindness can take many forms - an elaborate display or a simple gesture. At Stir we believe this sentiment of love is captured beautifully in a few simple words "May I make you a cup of tea"

Until next time, wishing you good health & happy tea times.

Thank you for being part of the Stir community.
Kindest regards
Michelle


Celebrating the little and big moments in life with a great cup of tea
Posted: Wednesday 19 February 2020