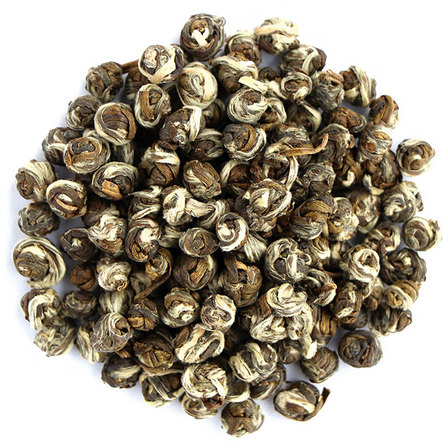 Jasmine Pearl
This elegant and aromatic blend has both a calming and revitalising effect when drunk anytime throughout the day. After the first steep set the strained leaves aside to brew later in the day (see the last paragraph below for more comment on this).
Ingredients: Green tea from China scented with Chinese jasmine.
A little more about this tea ...
The calming and nurturing nature of this tea embraces you each time you open the packet and the floral scent of the jasmine wafts over you. Even if you don't have time to brew a cup just stop and inhale deeply from the open packet to get a sense of the calm this tea can give you (if you are not a jasmine or floral fan this may not be the best fit for you).
We admire the enormous amount of skill and craftsmanship evident in these hand rolled individual pearls. To craft this tea, leaf and bud are hand rolled into pearl sized balls. Once rolled the tea is wrapped in silk mesh and dried by fire to set the form. The tea is then held until August/September when the finest jasmine blossoms are in bloom. The jasmine flowers are picked before noon and set aside until evening when the petals begin to open in the cool air. Once open the marrying of the jasmine to the tea happens. Our jasmine pearls have five applications of jasmine after which the jasmine flowers are removed.
The perfect way to brew this tea is using water below boiling, steeped for no more than 3 minutes and then pouring all the liquor off the leaf with each brew. Set the leaves aside and then top up the pot with more water throughout the same day until the pearls are fully unfurled and all the flavour is exhausted (the two slender tea leaves will be very evident at this point and you will marvel how much tea is in each pearl). Depending on how strong you like your tea you will likely get three steeps from your leaves throughout the 24 hour period, leaving them to steep a little longer each time.