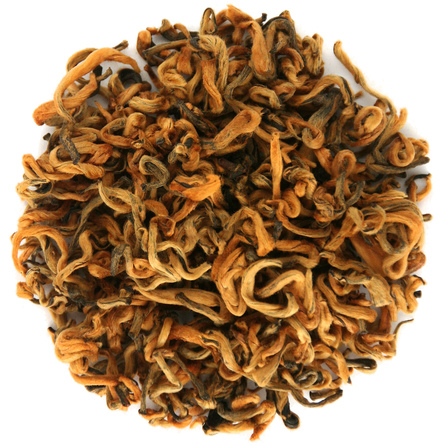 Yunnan Gold (China)
This high grade tea from Yunnan is composed of beautifully crafted gold-tipped leaves. It is lush and thirst quenching with a light sweetness to the liquor. It is a beautifully balanced cup and your enjoyment starts from the moment you hold this dry leaf in your hand. If you have purchased Yunnan Gold from us in previous seasons please see our notes on this years harvest below.
Ingredients: Black tea from China
A little more about this tea ...
Each year we purchase a limited stock of current harvest of the stunning Yunnan Gold to offer to our clients.
This year the leaf and the taste are quite different from the rich liquor of previous years. The reason for this is that producers of this tea are favouring their domestic customers taste more which are moving toward lighter, aromatic liquors with a strong emphasis on a distinctive dry leaf appearance (the team in our office described it as looking like tight noodles and feeling as soft as lambs wool).
So while the liquor is lighter than in previous years this is still a stunning offering to try and enjoy.
If your initial reaction is that it is too expensive for your everyday tea think of it in terms of how much you would pay for a special occasion wine (or beverage of choice). With this purchase of tea you get a whole bunch more servings and no headache. Buy for yourself or as a beautiful gift for a serious black tea lover.