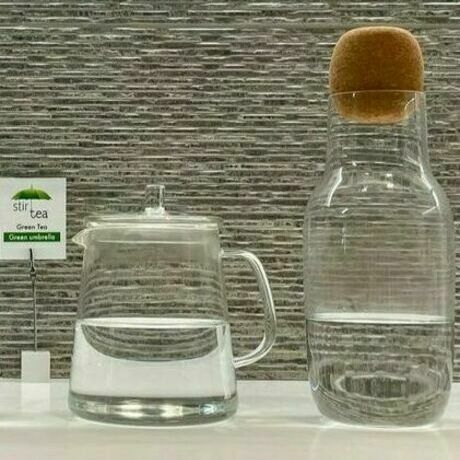 <!doctype html>
Dear Fellow Tea Lover

I hope this note finds you well and managing the best you can in these challenging times.
In this spring newsletter our lead technical article explores the key role your choice of water plays in the quality of your brew. I hope you find it interesting to read about the magic and chemistry that occurs when tea leaf meets water.
Our second article of interest offers tips for storing your tea leaf to keep it in the best condition.

Our recipe section takes on a hearty, savoury feel with a soup recipe incorporating the smoky flavour of
Lapsang Souchong
.

Read about current trends and in my closing comments a suggestion for how you might settle a difference of opinion over tea.

I invite you to pop the kettle on for a cuppa, settle in and have a read. A big thank you from the team and I for your ongoing support of Stir.
Warm wishes, Michelle, Stir Tea, Queenstown
H

ow Water Quality Affects Your Brew
When brewing your cup of tea, it can be easy to overlook the role that the quality or choice of water plays in the final cup. You may be very particular about the water temperature and how long to steep the tea before serving it but have you ever given much thought to the composition of the water you are using.

At that moment when you expose your dry leaf to water you start a complex chemical reaction and if you think of your brewed tea in scientific terms you have a solution where water (the solvent) dissolves the soluble components of the tea leaves (the solute).

The magic happens before your very eyes every time you brew and we hope you enjoy learning more about the differences of brewing with hard and soft water, acid vs alkaline and lots of other brewing tips in our
lead technical article
.
Tips For Storing Your Tea Leaf
During the cooler seasons there can be a lot more moisture generated inside your home.

Our latest blog explains how moisture and odours in the air can impact on the quality of your stored tea leaf and offers tips for keeping your tea in top condition throughout the year.
Read our blog here
Delicious Tea Inspired Recipes
We hope you enjoy this flavour filled soup recipe which uses Lapsang Souchong (smoky black tea) and invite you to visit the recipe section on our website for other tea inspired ideas.

This particular tea lends itself well to culinary use and you can also find it used in these recipes:
We continue to work closely with our international freight logistics providers to try and smooth out disruptions and delays which are causing some occasional stock outages. Apologies if we happen to be temporarily out of a particular tea when you come to order. Just drop us an email or use the
contact page
so we can let you know as soon as the stock is available.
We hold good stock of most tea and blends with the following special mentions:
Black and Single Estate Black Tea:
Keemun - This handsome black tea is a recent addition to our range. Our latest delivery arrived last week.
Rose Earl Grey - Stock levels of this super popular blend are getting low. 100 gm bags remain available and we advise stocking up now if this is an essential in your daily tea routine.
Hearty Breakfast
- Currently out of stock, our new shipment is en route.
Green Tea:
Recent stock arrivals mean we hold good stock of most of our Green Tea range.
- Our new season harvest of Japanese Sencha was harvested in May and airfreighted to us, ensuring we have good stock on hand.
- Jasmine Pearl recently arrived and is already being snapped up. This tea is hand rolled and scented five times with fresh jasmine flowers. It is incredible.
- Green Tea Mint - Apologies this still remains out of stock for the moment. A new delivery is due in around 8 weeks.
White Tea:
We hold good stock of our White Tea range including new Silver Needle stock that arrived last week (please note this is also going fast).
Herbals and Fruits
(caffeine free):
We do hold good stock of most of our Herbals and Fruits range with the exception of Apple Pie which remains out of stock, with a new delivery due in around 12 weeks.
Our range is now available in 4 sizes with the launch of our new (and smallest) kid on the block

'Discovery Size' bags.

These are perfectly proportioned to brew around 4 cups and offer an opportunity to explore multiple flavours or try something new without feeling you have to commit initially to the larger bag sizes that we also offer.
Read more here.
How to purchase:
Simply go to your flavour of choice and choose 'Discovery Size' from the select size drop down menu on the product page. Repeat this process for each flavour that you would like to experience.
Spiced Rooibos
This blend has been with us since day one and is a firm favourite amongst Stir lovers. Spiced Rooibos is a caffeine free blend of organically grown herbs and spices combines to deliver an outstanding aromatic spiced liquor that is full of flavour and depth.

You can select
Spiced Rooibos
as one of the options for your choice of complimentary sample to receive with your online order this month. For more information browse Spiced Rooibos amongst the Herbals and Fruits range on our website.
Tea Trends & Stir Thoughts:
1. Tea based mocktails appearing on more menus
Non-alcoholic tipples using tea or tisanes as a base continue to attract much interest and were of particular interest to those who participated in Dry July earlier in the year.
Butterfly Pea Flower
is always a dramatic and fun blend to use. One mouthwatering combination we recently read of was a combination of lemongrass syrup, cranberry and lemon juice and brewed butterfly pea flower, all layered into the glass. Dazzling and delicious.
2. Bubble (Boba) Tea Stores
While the word 'Bubble" is forever associated Alert Levels it is also used to describe a popular style of modern tea that originated in Taiwan. The interest in bubble tea (boba) continues to grow and also polarise tea drinkers. In its most basic form bubble tea consists of black tea, milk, ice, and chewy tapioca pearls, all shaken together and served with a fat straw to draw the pearls through.

A recent Stir staff outing to a bubble tea shop divided the team. For some the texture of the tapioca pearl was less than appealing, others in the team loved it. If you are new to bubble tea I suggest you pay close attention to sugar levels (they are frightening) and we suggest opting for minimum sugar when you order. One of my favourite flavours is the traditional Black Tea with Rose. We shall delve deeply into the world of Bubble Tea in future newsletters.
3. Earl Grey Blends remain super popular
Earl Grey lovers are passionate about their cup of tea and while it never goes out of fashion, 2021 seems to be their year. Whether it is for traditional brewing or innovative use, such as lattes or kombucha, we are continuing to see strong demand for our Earl Grey selection. If you are curious to explore these then consider trying our
Earl Grey variety packs
. If you are interested to learn more about Earl Grey blends generally you can read our
blog here
or browse our
Earl Grey range here
By subscribing you are automatically in our subscriber prize draw for the chance to win one of two
Stir Tea Variety Packs
(your choice from our Black, Green, Herbals and Fruits or Mixed Selection). We draw 2 lucky winners each newsletter using a random number generator. Congratulations to Michael from Napier and Louise from Auckland, who have won this editions draw, your tea prize is on its way.
Parting Thought from Michelle
Sharing a pot of tea is a great way to engage in conversation or as I found out recently it can be used to settle an argument under the rules of Tea Duelling.

At this years Steampunk NZ Festival held in Oamaru over Queens Birthday weekend, the 'Tea Duelling' event saw tea and biscuits become the means to resolve a dispute.

Two disputants sat opposite each other in this Victorian themed event, chose biscuits, dunked them in freshly poured tea for a clean five seconds, then raced each other to consume their biscuit without it collapsing in their grasp. Read more about this in a
lovely article in the Otago Daily Times
which gives a little more insight into the frivolous art of tea duelling .

Wouldn't the world would be a much better place if all disagreements could be settled over a cup of tea and a biscuit.
Until next time, wishing you good health & happy tea times.

Thank you for being part of our Stir community of tea lovers.
Warmest Regards
Michelle
Posted: Thursday 2 September 2021