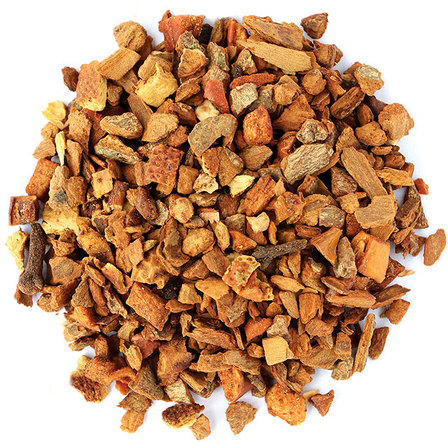 Apple Pie
Enjoy the time-honoured combination of apple and spices in the beautiful, refreshing blend. We are reminded of the smell and taste of freshly baked apple pie in the caffeine free drink.
Ingredients: Cinnamon (Vietnam), diced apple (Germany), orange peel (Argentina/Turkey), cloves (Sri Lanka/Madagascar), natural flavouring (USA).
Read more about this blend below:
A little more about this caffeine free blend...
It is delicious enjoyed as a hot drink or a great base for iced tea. If you have any brewed liquor left over try soaking your porridge oats overnight to extract the last of the flavour. One customer refers to it as: Christmas in a cup
Cinnamon and orange peel may help regulate blood sugar and lower cholesterol. Apples contain vitamin C which can offer antioxidant properties and may boost the immune system and metabolism. Cloves can help block the growth of bad bacteria in the body and can act as a gentle aid for digestion.