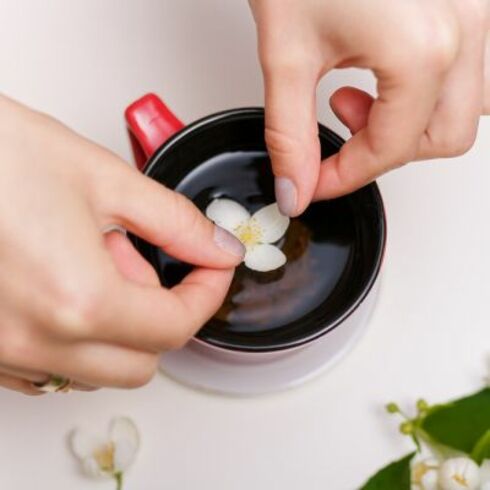 Welcome to our summer newsletter.

In this edition we look at options for placing tea at the heart of your celebration and how your choice of language can frame the occasion.

If you need some guidance around choosing the right tea for yourself or as a gift we have put together a tea buying guide which we hope you find useful. Add some home-baking to your tea gift to complete a heartfelt gesture of connection and love.

If you are planning on spending time outdoors over the coming months then don't forget that tea can be a great companion, whether you are just sitting under a tree resting or heading towards the sky on a hike.

With our very warm wishes for a NZ summer that delivers exactly what you need this year.

Michelle and the Stir Tea Team.
Our Guide to Choosing the Right Tea
If you want to find just the right 'something to drink' for yourself or the perfect loose leaf tea gift for someone else, we have developed some suggested guidelines to help you.

Read our Tea Buying Guide here
Folklore tells us that the tradition of hanging stockings by the fire started with Father Christmas and his journey down the chimney. He dropped gold coins from his pocket as he climbed down. Luckily a stocking hung to dry by the fire happened to catch the coins, preventing them from
falling down the ash grate and so the tradition began. The Victorian rule of thumb for filling a Christmas Stocking is to place in the stocking something to:
*

Eat *

Play With *

Read

*

Or an Object They Need
High Tea. Friendship Tea. Distanced Tea.
As tea lovers we all appreciate the dynamic nature and multiple personalities of loose leaf tea. It can be the rock star of your summer party or it can quietly accompany when you take a moment to stop and be still.

This time of year can present heightened pressure to cater, host and deliver in excess. If you have the energy it can be a fun and exciting time of creativity and who doesn't love a great party. Alternatively simple gestures can sometimes be just as effective an opportunity to come together and celebrate. How you choose to serve your tea and your choice of words around your offering play an important role in setting the scene and expectation for your occasion.
High Tea is a wonderful way to bring people together over tea and indulgent treats. It is a glorious occasion and it places tea at the heart of your celebration. We adore High Tea, however, the words "High Tea" can be heavily loaded and may create a certain formality and expectation around the nature of the event which may discourage you from hosting it.

Alternatively why not take the pressure off yourself and simply invite someone to "pop over for a cup of tea" garnished with a suitable edible flower.

Perhaps invite friends for a friendship tea where you share companionship and ask everyone attending to bake their favourite item to share along with their recipe. Make it a portable tea feast and head outdoors or to the beach.

If you are distanced from a loved one this year why not send them a tea care package to be opened and enjoyed together when you are online for a shared tea experience. Alternatively simply brew yourselves a pot of tea at the same time and nestle in for a chat.
Throughout the year we continue to add to our recipe library on our website. Some use tea as an ingredient and others might be the perfect little something to enjoy with a cup of tea. Here is a selection of some of those recipes that are a great choice at this time of year. Click on the images below to view the recipe details.
Stock Updates
We have been keeping in close contact with our suppliers over the past few months and we are pleased to report that our established international supply channels remain relatively accessible. International freight delays remain an issue globally and we may experience some delays with deliveries of tea into NZ over the coming months. We shall keep our website updated, please email us directly if you have any questions over arrival times.
Tea or Tisane of the Month
Our Tisane of the Month is the magical Butterfly Pea Flower.

Enjoy the dazzling spectacle as these caffeine free flowers transform into a vivid blue liquor while they steep. The gentle flavour and amazing colour makes it a great base for iced tea. Traditionally the liquor has been used in the treatment of memory loss and stress.

We would love you to try this fabulous tisane and you can choose this as your complimentary sample when you order online in December.
Tea Trends & Stir Thoughts:
Tea evokes memories - if the memory of Christmas for you is spice then capture this mood with a cup of Stir Masala Chai, perhaps a caffeine free Spiced Rooibos or for a warming drink that many say 'smells like Christmas' try a pot of Apple Pie if you are so inclined.
This is such a versatile flower which we think is going to be out and about quite a bit this summer. Mixologists enjoy the drama of the brewed liquor, using it as a base in their cocktails and iced teas. Butterfly pea flower is fabulous for party drinks with its vivid blue colour which can be magically changed to purple with the addition of lemon. Read more about this on our website or select it as your complimentary sample this month when you order online.
Health focused customers are reporting great relaxation and sleep benefits from drinking this in the evening, following a long standing tradition of use as a sleep aid.
Calm those Nasty Bites - Your daily cup of tea could help you stay itch-free. Keep some spent tea leaves in a container in your fridge, and use it as a compress immediately after a bug bite. The compounds in the tea will reduce inflammation, while the cold will help soothe the itch.

Soothe your irritated eyes - Our fill your own tea filters are a convenient way to brew tea, particularly if you are travelling over the summer. Once you have finished brewing you can then re-purpose these, complete with spent leaves, as a way to calm and soothe irritated eyes. Simply pop the used tea filter in the fridge to cool for a few hours (Green Tea, Chamomile or Peppy Mint are perfect choices for this). When you have a few moments to relax, place them over your closed eyes and take a rest. This is wonderfully refreshing for allergy irritated eyes.
Tea - the Perfect Gift or Care Package
Thank you for subscribing to our Newsletter. By subscribing you are automatically in our subscriber prize draw for the chance to win one of two Stir Tea Variety Packs (your choice from our Black, Green, Herbals and Fruits or Mixed Selection). We shall make this draw on Tuesday 15th December and the winner will be contacted directly by email and announced on our Facebook Page. Follow us on facebook here
SUMMER HOLIDAY OFFICE HOURS
The Stir Team are taking an extended tea break and will be closed from 5pm Friday 18th December until 9am Tuesday 5th January 2021.
You can still order online and we will process your order as soon as we
re-open. Look out for us at Remarkables Market if you are visiting Queenstown over the holiday period.
Parting Thought from Michelle:
My parting thought is very simple given the challenges of this year for everyone.

I hope you get to relax over the summer period and raise a cup of tea as a toast to your own good health and happiness.

Until next time, take good care of yourself and we look forward to sharing lots more tea moments with you in 2021.

Thank you for being part of the Stir community, my team and I really appreciate your support.

Kindest regards, Michelle
Posted: Friday 4 December 2020