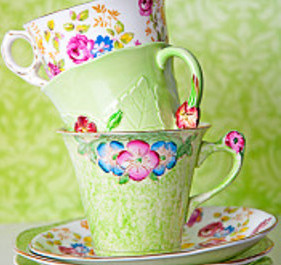 Did you know that there is a traditional tea etiquette to follow when hosting a tea party or garden high tea? We're not just talking about cucumber sandwiches and scones with jam and clotted cream though. For us at Stir Tea, tea etiquette is all to do with the tea service, the offerings of tea, the way tea is served and enjoyed along with the sense of hospitality and celebration created by the host/ess. Come with us as we revisit some of the more formal elements of tea manners.
Exploring New Zealand Tea Etiquette
There's nothing quite like a great cup of tea. New Zealanders have always enjoyed drinking a cuppa at morning, noon and night! Following the British tradition of tea service and tea parties, we've adapted how we enjoy our tea to fit with our lifestyles and culture. Today's tea parties or afternoon teas are more likely to be a mixture of formal traditions with some Kiwi culture thrown in. But there is still etiquette to be followed when it comes to offering, pouring and drinking tea, including:
To prepare the most flavoursome cup of tea, loose leaf tea should be used in teapots, not tea bags
Serve tea in a cup and saucer – fine china always feels special.
Offer a variety of teas styles to your guests, such as black tea, caffeine-free tisanes, white tea and even iced tea. You could always welcome them with a beautiful mocktail.
Consider pairing your tea selection with food
Heat the teapot first using hot water, before brewing the tea
Place the tea leaves into the pot, then add boiling water (lower temperature for green and white tea) and steep according to the tea within
The host or hostess always pours the tea for the guests, passing the cup to each guest as it is filled
Serve tea to your guests starting with your guest of honour seated on your left, and moving around the table. You serve yourself last
Ask your guests before serving if they would like milk, sugar or lemon with their tea
When pouring, only fill the cup three-quarters full
A tea strainer is used to catch the tea leaves when pouring into each cup, and then placed back in its stand when pouring is finished
Milk is added after the tea and the sugar – this is a controversial and much debated topic. An old superstition suggests 'to put milk in your tea before sugar is to cross the path of love, perhaps never to marry'
A teaspoon is placed on the saucer of the teacup for the guest to stir themselves. Ensure that the spoon and the handle of the cup point to 4 o'clock and that they never make a noise!
As a host or hostess, the tea etiquette you observe sets the scene for your gathering. Your guests may already be aware of the reasons why you perform some or all of these rituals.
Fundamentally at Stir our ethos is that a gathering for tea is an opportunity to offer hospitality and enjoyment.As host you want to ensure your guests feel comfortable and nurtured while drinking their beautifully prepared cup of tea infused with your own warmth and care.
If you are attending a formal tea event then here are some suggested tea manners you can adopt: never keep a cup and saucer more than 12 inches apart, keep your pinkie finger down when drinking, if stirring your tea do it quietly without hitting the sides/bottom of the cup and the big no dunking rule!
You may like to try out a few of our favourite recipes to offer to your guests too, including our Sweet Brioche Rolls or Earl Grey Shortbread. We're certain you'll have a lovely time and wish we were invited too!
Posted: Monday 26 November 2018