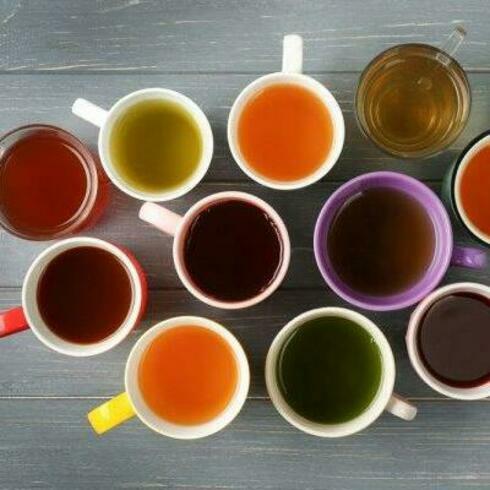 Welcome to our spring newsletter, we hope you are travelling along well in these extraordinary times.

In this edition read our latest blogs on how the shape of your tea cup can influence your tea drinking experience and our guide on the right measure of loose leaf to use when brewing different styles of tea.

We share survey results showing how New Zealanders reaffirmed their love of tea during lock-down - well done NZ, we really did excel in our tea drinking.

Our regular features include new tea inspired recipes and our latest Stir updates.
We invite you to pop the kettle on for a cuppa and enjoy a read.
Best wishes
from Michelle and the team
Stir Tea, Queenstown Est. 2008
How much tea leaf to use?
As you immerse yourself more deeply into the world of tea, you will find a wide array of tea leaf styles on offer - some small or large open leaf, tightly curled leaf or small particle leaf. This then begs the question, how much dry tea leaf should be used to make your cup or pot of tea?
Does the shape of your tea cup affect your tea drinking experience?
Have you noticed a difference in your tea drinking experience when your cup of tea is served in a thick rimmed coffee cup or double walled glass. These are often used in cafes and we have to admit it is not a preference for us.
This became an interesting topic of discussion at Stir HQ recently so we decided to delve a little deeper.
Read more about the effect of your tea cup in our recent

blog here.
Delicious Tea Inspired Recipes
Spring can still be a little unsettled on the weather front so we choose this wonderfully warming and comforting
baked apple recipe
to share as it pairs so beautifully with our single estate black teas, particularly our new release
Keemun tea
.
If you want to enjoy the spiced apple taste without the effort of cooking - try our caffeine free
Apple Pie
blend.
Jasmine Pearl Green Tea Smoothies
Using brewed
Jasmine Pearl Green Tea
along with a banana as your two base elements you can make a variety of deliciously refreshing smoothies.
Base:
3/4 cups of brewed Stir Tea Jasmine Pearl (cool before use)

1 Banana
Fruit Options
Green Option:
To the base add: To the base add:
A handful of blueberries A handful of spinach, half an
or avocado, fresh ginger & mint
One peach & 3 Tbs coconut yoghurt leaves
What's brewing at Stir:

Tea of the Month - Jasmine Pearl
Our chosen leaf for our Tea of the Month is a hand rolled green tea which is then naturally scented multiple times with fresh, double petalled, jasmine flowers. We call it Jasmine Pearl but you may also see it referred to as Buddha's Tears. This elegant and aromatic blend has both a calming and revitalising effect when drunk anytime throughout the day. After the first steep set the strained leaves aside to brew again later in the day.
The skill and craftsmanship involved to create these individually hand rolled pearls is fascinating. You can read more about this process
here
New Tea Release - Hearty Breakfast
A number of our customers have asked for a strong, robust black tea that is well suited to milk. After two years of developing and sampling we are super thrilled to release our unique blend of Kenyan and Keemun (China) leaf which we have called Hearty Breakfast. If you would like to try a sample, we are offering it as one of the tea of the month complimentary sample options with your online order. Select Hearty Breakfast as your sample option at checkout.
We have been keeping in close contact with our suppliers over the past few months and we are pleased report that our established international supply channels remain really accessible. International freight delays remain an issue globally and we may experience some delays with deliveries of tea into NZ over the coming months. We shall keep our website updated, please email us directly if you have any questions over arrival times.
Black and Single Estate Black Tea:
New releases:
We are thrilled to release our new robust black tea blend
Hearty Breakfast
and the stunning single estate
Keemun
black tea. The new seasons harvest Darjeeling is currently en-route to us.
Green Tea and White Tea:
Our new shipment of Japanese teas are expected in the next 2 weeks. We generally have a good stock of most other green and white teas.
Herbals and Fruits
(caffeine free)
We have noticed an increase in sales of our caffeine free selection in recent months however stocks remain at good levels.
Remarkables Market - Queenstown
The
Remarkables Market
is kicking off earlier this year, starting on Saturday October 3rd and running from 9.00am to 2.00pm each Saturday until mid April. You will find Stir at the market most Saturdays, in our regular position at the entrance to the red barn. We can't wait to see you again or meet you for the first time and talk tea. We strongly encourage you to
order online
in the week leading up to the market. At checkout select the '$0 freight charge, collect Remarkables Market' option and then simply collect your prepared order on the day from our express checkout.
Ordering online means you can make savings on bigger bags, ensures you have the full choice from our full range and also allows you to choose a complimentary tea of the month sample. We hope you can make it along to the market at some point this season.
NZ Tea Trends & Stir Observations:
Kiwis found comfort in their cup of tea during lock-down
Tea drinking has been a helpful and healthy distraction for many during lock-down with industry statistics for the April lock-down showing Kiwi's enjoyed around 34 million more cups of tea than the same period last year - that is a mighty effort across our population of just under 5 million. There have been several reasons for this increase, including:
When the uncertainty of world events were swirling around us the tea brewing process was something we felt we could make decisions on and control.

With social coffee dates out of the house curtailed during lock-down many people found themselves nestling in at home with their tea pot, reigniting an old love affair with tea.

For those working from home access to the kettle and tea meant that we were likely to brew more than if we were in the office.

For some during lock-down they felt they had more time, they felt they almost changed down a gear and slowed - this left them seeking the calming nature of tea rather than the buzz and up of coffee. Their tea break also helped with the shape and structure of the day.

Anecdotally customers related their stories to us of how important their tea ritual became in breaking up the day. They found it more soothing and relaxing to drink tea with less caffeine than their regular coffee. They found improved sleep because of this.
The industry trends showed a spike in green tea sales however we experienced even increases across the whole Stir range.
The "Better for me beverage" trend
The latest NZ food and beverage industry surveys show consumers are prioritising their health and well being in their beverage choices as they search for products with functional benefits also. We think a cup of tea fits perfectly into this "better for me" category offering not only nutritional goodness but also the chance to reset your day with a pause as you brew opportunity.

Brewing a pot of tea offers an opportunity to pause and breathe:
One of the simple joys of brewing a pot of loose leaf tea is the opportunity to linger over your teapot while it is brewing and simply do nothing – just pause, be still and simply take those few minutes to breathe deeply as you make your cuppa.

If you want to access more resources on the health benefits of taking time in the day to pause and reset then take a look at the recently developed Mentemia website and app. This resource was co-founded by Sir John Kirwan and is supported by an excellent group of medical experts who offer practical tips and techniques to help people take control of their mental well-being and health. Over recent months it has received Government funding to make it accessible to all New Zealanders.
https://www.mentemia.com/blog/how-to-relax-your-brain-with-deep-breathing
.
Thank you for subscribing to our Newsletter. By subscribing you are automatically in our subscriber prize draw for the chance to win one of two
Stir Tea Variety Packs
(your choice from our Black, Green, Herbals and Fruits or Mixed Selection). We shall make this draw on Thursday 8th October and the winner will be contacted directly by email. We will also announce the winner on our Stir Tea Facebook Page. Follow us on facebook
here
Parting Thought from Michelle
If you want an inspiring read about finding joy in the simple pleasures of food and beverages during times of austerity reach for 'How to Cook a Wolf' by M.K. Fischer or read a little more on the background of this author
here.
Until next time, wishing you good health & happy tea times.
Thank you for being part of the Stir community, we really apppreciate your support.

Kindest regards
Michelle
Copyright © *|CURRENT_YEAR|* *|LIST:COMPANY|*, All rights reserved.
Posted: Thursday 24 September 2020