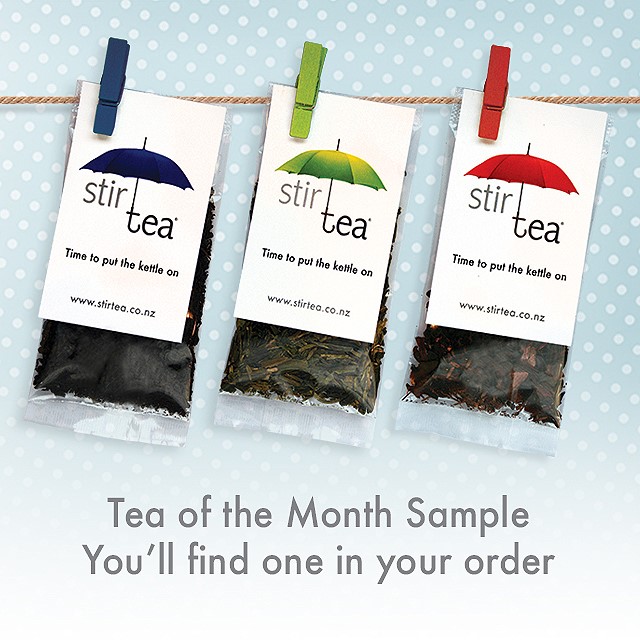 Enjoy a pot of tea on us - you will find a complimentary sample included with your online order.
As part of the ordering checkout process you get to choose your preferred option from a sample selection we offer. That selection will be based around something that we are celebrating at the time at Stir - perhaps a seasonal tea, a beautiful pairing of tea with fruit or spice or just a favourite we want to share. The selection changes around every 4 - 5 weeks.
There is enough for a few cups or you may choose to pass your sample on to a tea loving friend or workmate. The cute wooden peg attached can be used to hold the bag closed so you can enjoy some tea right away and save some for later.
Current Tea of the Moment - At checkout select from either:
December 2020: Coconut Cream (black tea), Japanese Sencha (green tea), Butterfly Pea Flower (caffeine free tisane)
Previous Selections:
November 2020: Jasmine Pearl (green tea), Black Tea Rose (black tea), Chamomile Garden (caffeine free)
October/September 2020: Hearty Breakfast (new release black tea) or Jasmine Pearl (handrolled green tea), Heavenly Lemon (caffeine free)
August 2020: Coconut Cream (blended black tea) or Spiced Rooibos (caffeine free herbal and fruit)
July 2020: English Breakfast or Cinnamon Apple or Chocolate Mint Rooibos
June 2020: Dragonwell Green Tea or Blood Orange
May 2020: Assam (Single Estate Black Tea)
March 2020: Japanese Genmaicha (Green Tea)
February 2020: Heavenly Lemon (Caffeine Free Herbal & Fruit)
January 2020: Chocolate Mint Rooibos
December 2019: Peppy Mint
---
June 2019 - Our New Black Tea Cinnamon Apple or the Caffeine Free Apple Pie
April/May 2019 - Yoga Flow (caffeine free)
March/April 2019 - Java Black - Single Estate Black Tea
December/January/February 2019 - Blood Orange
Late October/November 18 - Chamomile Garden
October 2018 - Earl Grey Supreme
September 2018 - Japanese Genmaicha
Mid July/August 2018 - Peppy Mint
June 2018 - Masala Chai (spiced black tea)
May/ mid June 2018 - Dragonwell, Pure Green Tea
May 2018 - Green Tea Pear
April 2018 - Earl Grey Supreme
March 2018 - Chocolate Mint Rooibos
Posted: Tuesday 1 December 2020