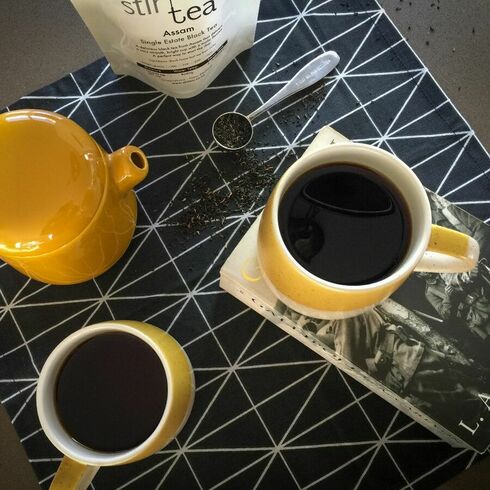 Dear Fellow Tea Lover



We hope you are doing well and keeping warm. Given the weight of global events over recent months, we hope that this newsletter offers you some light relief to enjoy with a cup of tea.

Read about how the

colour of your cup may influence your tea drinking experiences. We also share a fun article on the versatility of tea - aptly described as the 'Swiss army knife of beverages'.



At this time of year when our bodies call for nurturing and warming foods, our recipe choices for you are a reflection of this - experiment with some delicious soups and a mulled wine style drink using brewed tea as the base.


My parting thought at the end of this newsletter extends a heartfelt thank you for your continued support of Stir Tea.

Enjoy your tea time read.

Best wishes
from Michelle and the team


Stir Tea, Queenstown



Does the colour of your tea cup affect your tea experience?
Have you ever considered whether the colour of your tea cup could influence your perception of taste as you drink your tea?

Read about this fascinating topic in our blog
article here
or in the 'Learn' section of our website under "Articles of Interest'
Tea: The Swiss Army Knife of Beverages
As tea lovers we all appreciate the versatility of tea. It can be called on for any occasion - in fact a bit like the Swiss Army knife of beverages. It was this analogy we came upon in this fun article in the Guardian newspaper that really resonated with us. It refers to a cup of tea as a 'hot, wet, aromatic Swiss army knife'. We hope you enjoy reading it as much as we did, you can
read it here
.
Delicious Tea Inspired Recipes
When a recipe calls for liquid, consider using your brewed tea as a wonderful option to add depth of flavour. Alternatively use some brewed liquor to de-glaze a pan or for basting meat part way through cooking. Below we share a selection of tea based recipes to get your juices flowing.
Ochazuke
In this simple and comforting dish, Green Tea adds a subtle and savoury flavour as it is poured over rice and vegetables.
Ochazuke is a nourishing one-bowl dish featuring steamed rice with an assortment of savoury toppings. Brewed
Green Tea
(ocha) is poured over the ingredients to partially submerge them (zuke).
This is the ultimate comfort food for when your body needs a little nurturing.
Click here for the recipe.
Hot Tea Steeped with Mulled Wine Spices
A delightfully intoxicating combination of spices will waft through your kitchen as you prepare this mulled wine style drink. You can choose either a black tea or caffeine free red rooibos as the base for with this warming party drink recipe, to cater for all tastes.
Stock Update:
We currently hold good stock of much of our range, however, due to recent world events we are anticipating that some of our stock lines may be delayed in reaching us in the coming months. We shall keep our website updated of their status and apologise for any inconvenience this may cause. We are working very hard with our longstanding suppliers to ensure continuity of supply. If your favourite blend is not available when you go to order please just
send us an email
and we shall let you know as soon as it is available.
Order Delivery Updates:
As I am sure you are aware, couriers around New Zealand are experiencing unprecedented volumes from an increase in online shopping and as they work to clear the lockdown backlog. We are finding that there are delays in delivery of orders to some regions, in particular the Wellington region. Please allow extra time for your delivery, especially if you are buying tea as a gift or with a specific deadline in mind.
What's brewing at Stir:
Our Tea of the Month is Dragonwell Longjing
Our chosen leaf for our Tea of the Month is the famous
Dragonwell Longjing.
This classic Chinese green tea is highly revered for its colour, mellow taste, full aroma and its skilfully crafted flat leaf. This tea is one of the options you can select as your complimentary sample with your online order this month.
Browse online here
for a little more information about this wonderful tea.
Tea Trends & Stir Thoughts
The warming nature of tea
With the colder temperatures of winter now upon us a cup of tea is a wonderful source of warmth for your body. We love the quote below by English food writer, journalist and broadcaster Nigel
Slater, where he talks about the nature of food as 'central heating' on a cold wintery day. We believe this equally applies to your cup of tea.
'I long for food whose purpose was not to excite or inspire but to soothe and cosset. Suddenly eating is about central heating, bolstering ourselves against the wind and rain.'
Discover NZ & Stop Along The Way For A Cuppa
If you are holidaying in NZ this year we hope you get to visit our home town of Queenstown. If you do, the
Queenstown Trails
are a fantastic way to explore our beautiful region. Whether you are on bike or by foot don't forget to pack your cuppa for the journey or enjoy sipping Stir at one of our favourite cafes along the way.
Thank you for subscribing to our newsletter. You have been automatically entered into our subscriber prize draw for the chance to win one of two
Stir Tea Variety Packs
. We shall make this draw on Tuesday 23rd June and the winner will be contacted directly by email. We will also announce the winner on our Stir Tea Facebook Page. You can follow us on facebook
here
Parting Thought from Michelle
My parting thought is one of gratitude to you. Thank you for your support of Stir over the years and particularly the past few months

We have been humbled and heartened by your personal messages and stories of how Stir Tea has helped you throughout lockdown and your Covid 19 journey. You have shared with us how your cup of tea has comforted you, distracted you, nourished you and nurtured you. The simple act of preparing your tea offered some rhythm to your day or provided a well deserved break in the day of essential workers. For some who felt their lives were on pause you were able to savour the delights of a less rushed tea experience or rediscover your love for tea.

I would like to take this opportunity to extend a heartfelt THANK YOU for your continued support of Stir Tea and for choosing to include us in your daily tea ritual. We really appreciate it and we continue to strive to offer you outstanding service and tea.
Thank you for being part of the Stir community.
Keep warm and keep well tea lovers.
Best wishes, Michelle
Posted: Wednesday 17 June 2020