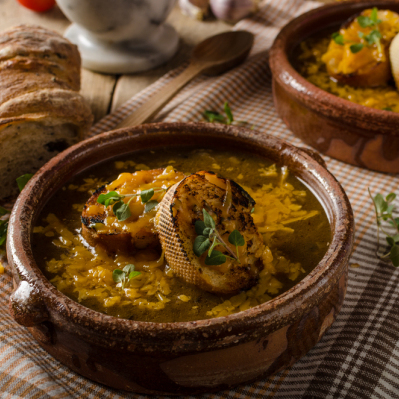 Tea in its dry and brewed form has been used in cooking for centuries.
Try incorporating tea into your cooking with this simple, healthy and delicious onion soup. Based on a recipe from The Ultimate Tea Diet by Mark Ukra, the Assam tea used in this recipe is from the Stir Tea range.
Ingredients:
2 tablespoon olive oil
4 large onions – sliced thinly
2 cups chicken stock
4 cups brewed Assam tea
1 bay leaf
1 teaspoon freshly ground black pepper
2 teaspoons Worcestershire sauce
1 tablespoon Sherry or brandy
1 tablespoon grated Parmesan Cheese
4 thin slices French Bread
Method
Heat the olive oil in a large saucepan. Add the onion and sauté until translucent, 3-4 minutes.
Add the chicken stock, brewed tea, bay leaf, pepper and Worcestershire sauce. Bring to the boil.
Lower the heat and simmer for 30 minutes.
Remove the bay leaf. Add the Sherry or brandy.
While the soup is simmering, heat the oven to 200 degrees Celsius.
Sprinkle the Parmesan cheese over the bread and place on a baking sheet. Bake for 15 minutes or until crisp and the cheese has melted.
Place a slice of toast in the bottom of each of four soup bowls and pour ¼ of the soup over each.
Serves 4