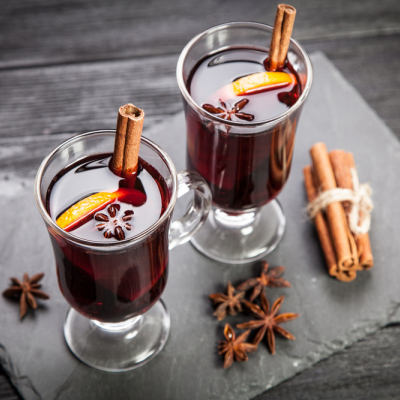 Tea Steeped with Mulled Wine Spices
Enjoy a great non-alcoholic warming winter drink in this Mulled Wine style tea.
Cook Time: 15 minutes
Total Time: 15 minutes
Serves: 4
Ingredients
4 cups boiling water
2 cinnamon sticks
8 cardamom pods
2 tsp whole cloves
2 star anise
Rind from 1/2 orange*
1 fresh bay leaf
4 tsp black leaf tea or caffeine free red rooibos
Sweetener of choice – brown sugar, honey or maple syrup.
Method
Bring water to the boil.
Crush the cardamom, twist the bay leaf and snap the cinnamon in two. Add the spices, herbs and orange rind to a pan. Pour water over and leave over a low heat to simmer for 10 minutes.
If using Black Tea - Add the black loose leaf tea and leave to infuse for another 3-5 minutes, depending on how strong you like it. Be careful not to oversteep the tea to avoid any bitterness or
If using Red Rooibos - Add the rooibos leaf and leave to infuse for up to 10 minutes. No bitterness will develop with this leaf so it does not matter if it infuses longer.
Strain the tea.
Add some sweetener if you wish suited to taste. This helps marry all the flavours together and we find this enhanced the overall flavour.
** Notes from Us:
Orange rind – make sure you exclude any pith (white bits)
We use Stir English Breakfast or Assam as the black tea leaf
Use Red Rooibos tisane for a caffeine free version
We top the completed liquor back up to 4 cups with boiling water once strained
We squeezed the juice from the whole orange and added this to the finished brew
Recipe inspiration from: https://nutritionistmeetschef.com/mulled-wine-tea/. Visit this site for really nutritious and delicious recipes.