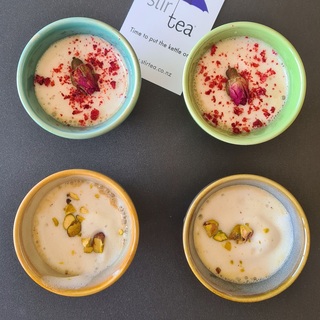 A tea style latte is a drink made with tea and a high percentage of milk. The high level of milk makes it a markedly different offering to other tea styles and is a popular gateway style of drink to offer to new tea drinkers. The satisfying nature of this drink makes it well suited to the cooler months.
While a traditional café latte is prepared with using steamed milk and a tea concentrate we find you can get a great result by using the stove top method for preparing your drink. This method infuses the tea leaf directly in the milk as it heats and then it is topped with frothed milk in the cup.
We prepare our tea style latte's using all milk. This results in a rich drink which we offer in smaller sized serves – around 100 ml sized cups. If you find the drink too rich you could dilute some of the milk with water when preparing it and serve it in a standard size 250 ml cup - perhaps starting with a 75/25 milk to water ratio or 50/50.
Any type of milk can be used. If you prefer plant based over dairy then we suggest you use a barista version which will froth better for you – we have had great success using a barista coconut milk tea and this has become our preferred.
The basic stove top preparation principles outlined in the below can be applied to any flavour of tea that you think will pair nicely with milk. Examples from the Stir Black Tea range that would latte beautifully are: Black Teas – Masala Chai, Coconut Cream, Toffee Nut Black, Black Tea Rose, Earl Grey Supreme and Rose Earl Grey. Two blends from our caffeine free Herbals and Fruits range are also excellent options - Spiced Rooibos and Earl Grey Rooibos.
The general guidelines for preparing your Tea Style Latte on your stove-top are:
Place your milk of choice into the pan on the stove top
Add the standard tea measure as recommended – 1 heaped teaspoon per cup
Bring to the boil, being careful not to burn the milk. Once it has reached boiling point reduce the temperature to a gentle simmer for 4 minutes (black tea), stirring occasionally
Strain through a fine mesh strainer
Top with frothed milk and enjoy
Masala Chai Sticky Latte Recipe
Now you have mastered your stove top latte preparation here is a recipe we hope you enjoy. The sticky refers to binding the dry tea leaf with honey. The presence of honey adds a preservative effect and your mixture can be stored and sealed in the fridge for up to a month. It is a healthy and flavoursome alternative to the chai syrups that are often used.
Posted: Thursday 18 May 2023