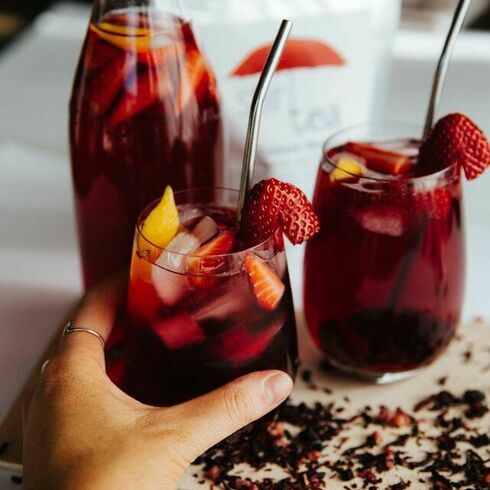 We will remember the summer of 2018 as the season of iced tea. We have been really inspired in the hot weather to experiment with different flavour combinations and even the most simplest combination like Iced Peppy Mint with fresh lime has been a huge hit.

In this newsletter we touch on the cooling aspects of tea along with sharing some lovely recipes we have added
to the lifestyle section of our website. We hope you enjoy it.
Does a hot cup of tea really cool you down on a hot day?
Many of us grew up being told that the best way to cool off in summer was to drink hot tea. It seemed to make perfect sense, have a cup of tea to increase your body temperature and sweat more. But what does the science say?

Researcher Ollie Jay, a specialist in human kinetics conducted studies on this subject in 2012 and 2014. He found that drinking hot tea on a hot day does make you sweat more and can cool the body so long as the sweat generated evaporates from the skin (rather than being soaked into clothing you may be wearing or dripping straight onto the ground). This means the cooling effect is most noticeable in dry heat rather than humid conditions where the sweat sits on the skin.

So the science is saying yes, but the reason why is not what I had always understood it to be. Researcher Jay's testing showed that the cup of tea did not increase the body temperature, his second study in 2014 showed that the sweat response is likely linked to temperature sensors in the stomach controlling the sweat sensors.

A recent article on Stuff quoted another expert Peter Poortvliet as saying: "You have only four ways of losing heat from your body:- conduction, where your skin comes into contact with cold metal or water; convection, where wind blows over your skin; radiation, when it is cooler outside and the body give off heat; and evaporation, when sweat on your skin evaporates and uses heat".

The fourth way listed is where your hot cup of tea comes in handy.

So if you are in those parts of NZ experiencing a dry heat then enjoying a cup of hot tea might definitely help your comfort levels. Pop the kettle on.

Sources:
Academic: Full research report: https://www.ncbi.nlm.nih.gov/pubmed/22574769
or report extract: https://www.ncbi.nlm.nih.gov/pubmed/22574769
Magazine or article sources::
Popular Science article by Marissa Shieh: https://www.popsci.com/does-drinking-hot-liquids-cool-you-off
Stuff: https://www.stuff.co.nz/life-style/food-wine/64927733/hot-tea-not-ice-cream-will-cool-you-down

Mastering Iced Tea
For a nourishing, healthy and delicious drink that is simple to make read our downloadable guide on Iced Brew Hints here. It includes tips on how to avoid your iced tea clouding.

If you want to add a little natural sweetness to your drink try clear apple juice. If you have an abundance of fresh fruit freeze it and then add it frozen to your iced tea.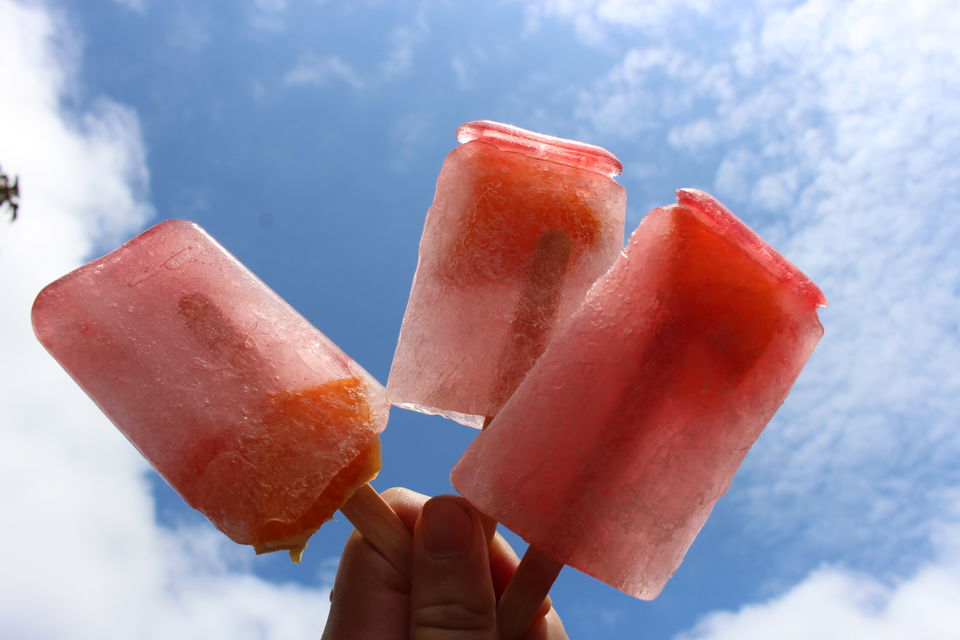 Alternatively use your brewed tea as a frozen popsicle base, simply add fruit to your popsicle moulds and pour your brewed Stir blend into it and freeze. Great for after school treats (for kids of all ages)
Matcha Smoothie Bowl

Even if you are not a fan of drinking green tea there are lots of other ways to include it in your daily diet. One of our team members, Indy made and photographed her breakfast of a green tea smoothie topped with her favourite things. Here is the recipe using culinary matcha.
Tea of the Month - Chocolate Mint Rooibos
When you order online we always include a complimentary tasting pack of our tea of the month. Currently it is Chocolate Mint Rooibos.

This is a very popular blend with just the right amount of natural sweetness to satisfy any cravings you may have. Alice, one of our team members has used this to great effect in a Chocolate Mint Rooibos Chia Bowl. This recipe is a great way to get your chocolate fix without the heavily loaded sugar content. We have put the recipe online for you here:
Tea Trends & Stir Thoughts
Tea - a plant full of goodness




Sometimes it is easy to forget when you look at dried tea leaves exactly what you are drinking. All true tea is from the leaf and bud of the camellia sinesis - a vibrant glossy leafed evergreen plant full of goodness.
We take great care to source our tea leaves from the best regions in the world for quality. It is equally as important to us that we look after our local environment too and do our best to take care of the planet. One way in which we reduce waste is to repurpose our used black sampling cups from the Saturday Remarkables Markets. We give these to Julie from Nevis Gardens and she uses them to grow her herb and vegetable seedlings in. Here is
a picture of the seedlings nestled into their new home.

Loose Leaf vs Tea Bags
At the moment there is debate overseas about the level of plastic used to seal teabags which might be proven to be non-biodegradable. While the manufacturers claim the amount per bag is small when this is applied across the amount of teabags that are being used it could have a significant impact on the environment. You can take heart from that fact that by choosing to drink loose leaf tea you are not contributing to this issue. Any used tea leaves that you put into your compost or onto your garden will complete the circle of life and return to the earth.
Tea Arrivals at Stir HQ

We are loving the new 2017 harvest
Dragonwell green tea
that has arrived and we are patiently waiting for more stock of the Assam black tea to arrive in around 3 weeks. We have also increased the amount of pure red rooibos on our next order as we anticipate shortages of this over the coming 12 months due to severe drought conditions in the growing areas around Capetown.
Have you visited our updated website?

Take a peek now - it is a celebration of the beauty of loose leaf tea. We hope you find browsing and shopping on it a really pleasant shopping experience. It is now mobile optimised, offers a new freight option ($0) of pickup from Remarkables Market and offers an even higher level of security than before. You can also easily repeat your last order. If you have shopped with us previously but not used our new site yet here are some tips to help on your first visit to the new site,

Until next time, wishing you Good Health and Happy Tea Times. Thank you for being part of the Stir community and enjoying a great cup of tea.
View our full contact details here
Posted: Tuesday 13 February 2018