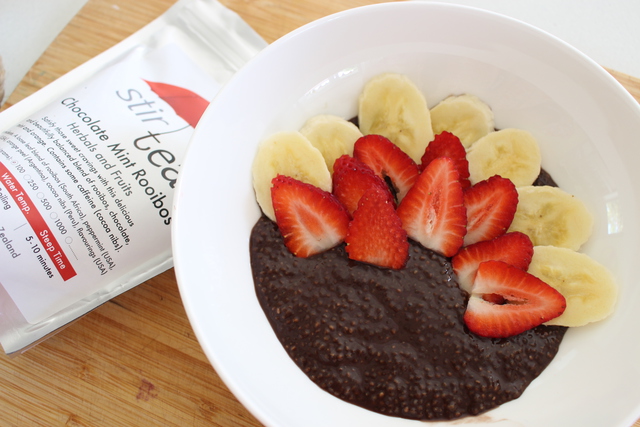 A delicious and nourishing start to your day, also a fantastic snack or dessert.
Serves two
Ingredients
1 cup of strongly brewed Chocolate Mint Rooibos by Stir Tea
4 tbsp chia seeds
6 tbsp almond milk (or another milk of your choice)
1 tbsp cocoa
1 tbsp cacoa nibs
1-2 tbsp vanilla extract, maple syrup or sweetener to taste (optional)
Sliced fruit and/or berries to garnish
Method
In a bowl add 4 tbsp of chia seeds
Add 6 tbsp almond milk
Now add 1 cup of strongly brewed Chocolate Mint Rooibos Stir tea
1 tbsp of cocoa, 1 tbsp of cacoa nibs and 1 tbsp of vanilla extract or maple syrup
Stir until well combined, cover and put in the fridge over night
Enjoy with your favourite fresh fruit to garnish
We hope you get a lot of joy from making and sharing this Chocolate Mint Rooibos Chia Bowl with your favourite cup of Stir Tea. Wishing you Happy Tea Times from everyone at Stir.
Recipe based on one from the new book, 'Cancer Hates Tea' by Maria Uspenski.