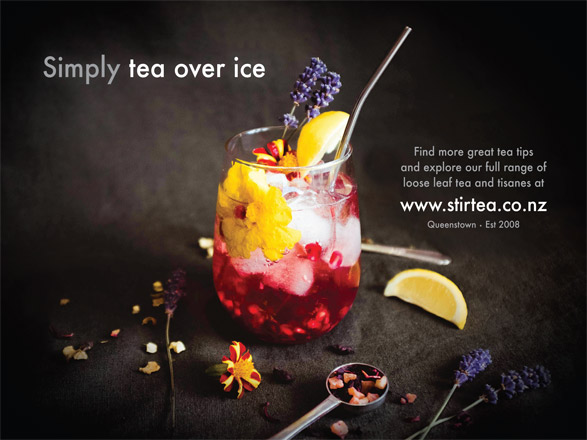 Click the image for our printable guide to iced tea.
At Stir Tea we believe there is an element of whimsy to freshly brewed iced teas. We encourage you to be bold and take risks with the teas you choose to ice. You will be richly rewarded with endless thirst quenching combinations.
Key Headings and Ideas from our Iced Tea tips:
1. That's a strong brew – Double the measure of tea you would normally use.
2. Let's not get bitter – Steep your tea leaf for the same time as normal. If brewing a blend from our Herbals and Fruits range then you can steep these overnight to extract the full flavour.
3. Clouds on the horizon – Cloudiness in your iced tea can be caused by minerals in the water or refrigerating while the brew is still hot.
4. Sweet – let's talk - serving to a large group, consider a sugar syrup (or just brew it the way you like it). .
5. Who drank all the tea – So simple to make, brew it daily.
6. That will do icely – Serve in a tall glass over lots and lots of ice.
7. Shall we garnish – in the mood for bubbles, add some soda water with a dramatic flourish of fresh fruit or flowers.
8. And proceed to Stir – give your iced tea a good stir and enjoy the sound and taste of summer.
Click here to browse Stir's iced tea blends.
Hint: Try Freezing your Brewed Iced Tea – it is wonderfully refreshing, a great way to cool off and the perfect after school treat