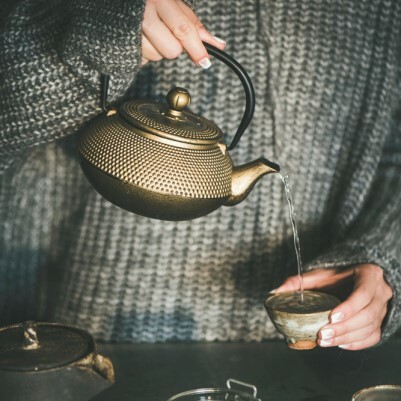 Welcome to the autumn edition of our newsletter.

Here you will find tea hints, a lovely Sticky Masala Chai latte recipe, Stir stock updates and more.

We hope you enjoy reading this over a brew.

Michelle and the Stir Tea Team.


The language of tea - Bloom and Pause
There is a gentleness in the language associated with tea. Here are two lovely examples of this:

Bloom
When brewing your tea leaf use a vessel large enough to allow water to circulate freely around your leaves to allow them to bloom and release their goodness.
Pause
Your tea leaf will deliver more goodness and flavour during the brewing process if it is allowed enough time to surrender quietly in the water rather than being rushed.

Read our article on Pausing for Greater Effect.
Tea Inspired Recipes - Tea Style Lattes
A tea style latte is a drink made with tea and a high percentage of milk. It is easy to make at home and perfectly suited to the cooler months. Read our article and hints on preparing a tea style latte - stove top style.
Sticky Masala Chai Latte Recipe
If you are looking for a delicious and naturally sweet drink then try our recipe for a Sticky Masala Chai Latte.

You start by preparing your sticky chai mixture. The sticky refers to the shiny mixture that you see pictured and is a result of binding dry tea leaf with honey.
The presence of honey adds a preservative effect meaning your mixture can be stored in a jar and sealed in the fridge for up to a month.

In this recipe we combine our Masala Chai, a beautiful spiced black tea blend, with fennel seeds and then bind them together with honey.
A. Stock updates

- We were very happy to take delivery of a large shipment of tea recently, including our super popular

crimson berry

blend and generally hold good stock of most flavours.

We are experiencing longer transit times on our incoming stock deliveries than in the past. This means there may be a small period between shipments when we are out of stock. Where possible we list the indicative availability date and apologise in advance if you go to order and find a particular line is not available. If you would like to receive an email advising when the stock is available simply click on the "Notify Me" link directly under the Add to Shopping Basket box on the product page.


You will find the following lines currently on sale - Green Tea Pear and Ginger Peach.
B. Packaging Change and Update:

We recently reviewed our packaging to see if there were any changes we could make that would help the environment.

The focus turned to our bag labelling and the question of whether both front and back labels were necessary.
As a result of this review we have now removed the back label, incorporating some of this information on to larger front labels. We will transition through this change over the coming months as we use up supplies of label stock.

Read the article below on our full packaging journey here and why we have made this change.
C. Complimentary Discovery Bag with your online order - now you can choose the flavour you want to try

Did you know that we have added another option to the sample drop down list to choose from at checkout called 'Other Flavour'.

You can select this option and then specify what your preferred chosen flavour is from our range - a chance to sample before you buy or gift the discovery bag to a tea loving friend.
D. Stir Tea Break in June:

Just a little advance notice that the Stir team at taking an extended tea break in June. We will be closed for 10 days from June 9th, reopening on June 19th. You can still place your order online during this time and it will be dispatched when we re-open. You may wish to order now to ensure your supplies are in good shape.
New Blend - Earl Grey Rooibos
(caffeine free)
Attention all lovers of Earl Grey, we are pleased to introduce our new caffeine free blend - Earl Grey Rooibos.

This new release offers the characteristic bergamot flavour notes and is a perfect choice for anyone wanting to reduce their caffeine intake or those wanting to enjoy a cup of Earl Grey right up until bedtime.


Tea Tip - always warm your brewing vessel:


This is an important step in your brewing process at any time of year, but particularly during the cooler months.

A warmed vessel ensures that the water you pour across the leaves remains at an optimum level longer and helps your tea leaves release their goodness.
Layering up for winter:

A tea cosy is a good way to keep your brewed tea hotter for longer. A good cosy should be big enough to cover the entire teapot, leaving a little space around it to form an insulating air barrier.
There are two main styles – one that covers the whole teapot or one with openings for the spout and handle. We find the convenience of the one with openings very appealing but the whole coverage arrangement will keep your tea hotter for a longer time. A tea cosy could make a great winter knitting project .
Parting Thought from Michelle:
Finding happiness in a well brewed cup of tea.

The concept of honing our skills of gratitude for the simple things in life is not new but I was interested to read a recent article offering tea as a daily example.

It explored the immense power of actively finding happiness in the small acts or rituals of the day..
I thought it was a great reminder of the power in our hands each time we take a moment to actively pause and enjoy a brew. The article said:

"the happiness we experience in our day may be a product of our appreciation of a particularly well-brewed cup of a tea or the way the sun shines on a leaf."

On this theme of gratitude I wanted to say THANK YOU for being part of the Stir Tea Community and choosing to drink loose leaf tea. We appreciate your support every day.

Until our next newsletter, wishing you Happy Tea Times.
Celebrating the little and big moments in life with a great cup of tea
SHARE WITH YOUR TEA LOVING FRIENDS
Posted: Tuesday 6 June 2023