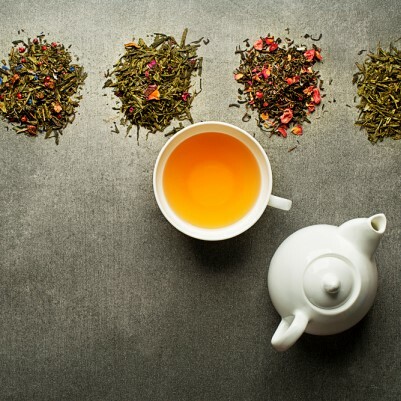 Welcome to our seasonal newsletter. I hope you can take a moment to pop the kettle on and enjoy a read with your cuppa.

In this edition you will find tea news and tips - including ways to maximise your investment in loose leaf tea, a report outlining caffeine levels in beverages and our new recipe perfect for the cooler mornings - Tea Infused Quinoa Porridge.

Our parting thought is an invitation to wrap up, take that morning tea outside and greet the new day head on.

With our very warm wishes,
Michelle and the Stir Tea Team.



Caffeine - how much is in your tea?
Caffeine is a naturally occurring substance found in the leaves of the tea bush. It is present in every cup of tea (camellia sinensis) that you drink.

Check out your daily caffeine intake in our latest blog, including guidelines from the NZ Ministry of Health.
Maximise the value of your tea leaf
1. Try a refresher roast
If you come across a packet of tea hidden in the back of your cupboard that is well past its best-before (BBF) date, then consider reviving the leaves with a refresher roast. This is a light roast (bake) of the leaves at a low temperature. Read our blog for more information.
2. Choose the right sized tea pot for the occasion
The capacity of a teapot can be very deceiving. What appears to be a single-serve pot might actually hold much more. This can cause you to go through your tea leaves more quickly or result in a weak brew. It's worth taking a moment to measure the capacity of your teapot (250ml = 1 standard cup) to ensure you are using just the right amount of tea leaf.

3. Multiple Steeps
4. Multiple Uses for your brewed liquor
Surplus liquor can be used as a substitute liquid in your cooking, juices or smoothies - see our latest recipe below.
Tea Infused Quinoa Porridge
This hearty warming breakfast recipe for
Tea Infused Quinoa Porridge
is a great way to use any surplus brewed tea liquor.
We suggest you use a strongly flavoured tea or tisane to impart a lovely flavour into the dish, we found
coconut cream
and
spiced rooibos
worked really well.
Generally we hold good levels of most stock after the arrival of two large shipments. Our warming spiced blends -
masala chai
and
spiced rooibos
are super popular, as is
yoga flow
.
Ginseng Green
- after several requests from customers, we anticipate bringing this blend back for summer. If you want us to let you know when available, select 'notify me when back in stock' on the product page.
Glass Teapots
- we expect a new delivery of our lovely glass teapots by the end of August.
Events: Queenstown Remarkables Market Season - one-off market
If you are in the Central Otago area on Saturday September 2nd, pop along to
Remarkables Market
to visit the Stir tea stand and top up your tea supplies. The full market season starts again on Labour weekend.
Tea of the month - Coconut Cream
The coconut flakes in this popular black tea blend add a lovely hint of natural sweetness. It is perfect for those occasions when you want a rich satisfying drink.

A customer described this tea as "Yum, this tea tastes like I am having a cake with tea, without indulging in the cake".
If you are curious about coconut cream, why not select it as your choice of complimentary discovery size bag at check out on your next order.
Tea Trends - Tea Pairings

Tea pairs so beautifully with a great many things. Two simple tea pairings are:
Tea and Jam plus Tea and Friends.
Tea and Jam:
Jam Jar Tea - As a child, I recall hearing tea drinkers talk about jam jar tea. During times of austerity, nothing was wasted in their household. The final serve of jam remaining in a jar was either added as a sweetener to tea or the tea was brewed in the jar to ensure every last drop of jam was used.
Jam as a preferred sweetener - Jam is a great way to way to explore adding flavour and sweetness to hot or iced tea. In some European countries you will find jam offered as part of the tea service and added in the same manner that sugar is. Typically raspberry, cherry, and strawberry jam or preserves are used with cherry being extremely popular. Alternatively, a small dessert spoon of jam is placed on the tongue and then the tea is sipped slowly, melting the jam in the mouth.

Tea and Friends:
Start your own Tea Club or expand your existing Book Club
A Tea Club is a great way for tea lovers and friends to get together. Some tips to consider if you are hosting:
Purchase our smaller discovery bags to offer a selection of flavours - perhaps based around a particular group of teas you wish to explore or matched to your book club theme.
Place one combined tea order for the group to save on freight costs.
Purchase our bigger discounted bags to share with someone who likes the same flavour.
The promise of a good night's sleep is appealing at any time of year and we touched on the role caffeine might play in our opening article.

Lately I have been enjoying listening to the Just One Thing BBC series podcast by Dr Michael Mosley. He offers tips for sleeping and the important role that natural morning light (even if it is overcast) can play in your sleep quality that evening. Perhaps a plan might be to enjoy that first cup of tea outside each day - accompanied by your hot water bottle for the cooler regions of NZ.

Thank you for choosing to drink loose leaf tea, and your continued support of Stir.

Wishing you Happy Tea Times.

Warm Regards,
Michelle
Celebrating the little and big moments in life with a great cup of tea
Posted: Thursday 17 August 2023