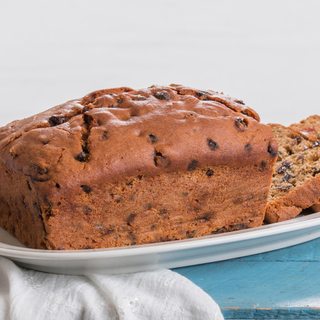 Sit down and take a moment for yourself with a cuppa and a slice of Fruit Tea Loaf. The fruit is soaked in brewed tea to plump it up and add lovely moisture to the cake.
Ingredients
1 ½ cups of mixed dried fruit
1 cup of currants
1 cup of cold, strongly brewed, black tea (we enjoy using our Earl Grey Supreme blend or the Single Estate Assam)
1 tablespoon treacle
1 egg, lightly beaten
½ cup of sugar
2 cups of wholemeal flour (or any combination of white flour, bran to make up two cups)
4 teaspoons of baking powder
1 teaspoon of mixed spice
Method
Place dried fruit in a large bowl, pour over cold tea and stir in treacle. Cover and allow to soak overnight. Stir beaten egg into fruit mixture followed by sugar and then the sifted flour, baking powder and spice.
Spoon into a greased or lined loaf tin and bake at 160 degrees Celsius for 1 – 1 ¼ hours or until a skewer inserted in the centre comes out clean.
Delicious on its own or when enjoyed with a cup of Stir Tea.