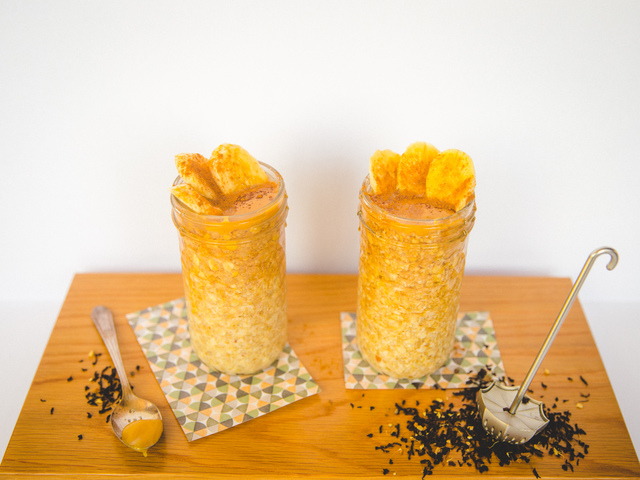 Ingredients
1 Cup Rolled Oats
½ Cup Soy Milk (or preferred other Plant or Dairy milk)
1 Strong Brewed Cup of Stir Tea Masala Chai loose leaf tea
Sliced Banana (optional)
1 Tsp Honey (optional)
1 Tsp Peanut Butter (optional)
Method
Pour your Rolled Oats into your vessel of choice (we found a jar worked great).
Pour your milk straight into your jar on top of your oats.
Add your brewed tea into your jar.
Cover securely with a lid or plastic wrap and set in the refrigerator overnight (or for at least 6 hours).
In the morning, you can heat up the oats and add toppings as you wish, we suggest Banana, Honey and Peanut Butter for a good start to your day!
Our image shows the Masala Chai Overnight Oats eaten raw, not heated.
We hope you get a lot of joy from making and sharing this Masala Chai Overnight Oats with your favourite cup of Stir Tea. Wishing you Happy Tea Times from everyone at Stir.