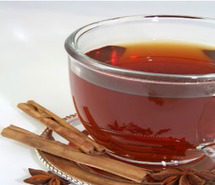 Warm and comforting on a chilly winter evening.
Ingredients
Makes around 4 cups
2 cups apple cider
2 cups water
8 whole cloves
5 allspice berries
1 cinnamon stick plus more for garnish
½ orange sliced
2 tablespoons of honey
2 teaspoons Stir Tea's loose leaf Assam or English Breakfast

Method
In a medium heavy saucepan, over low heat, warm apple cider, water, cloves, allspice, cinnamon stick, orange slices and honey for 10 – 15 minutes until fragrant.
Add tea leaves and continue to heat for another 4 minutes
Pour liquid through fine mesh strainer into mugs, garnish each mug with a cinnamon stick and serve.
We hope you get a lot of joy from making and sharing this Hot Cider Tea. Wishing you Happy Tea Times from everyone at Stir.
This recipe is from Sarina Jacobson's book called Tea More than 80 Delicious Recipes.