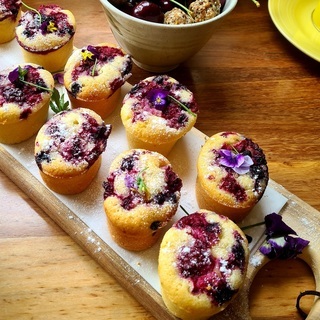 This recipe is an example of sweet baking that pairs beautifully with tea. We enjoy these friands served with either pure white tea or alternatively a black tea such as an Earl Grey.
Ingredients
2-3 tbsp butter, melted
170 gms butter
6 large egg whites
1 cup ground almonds
1 ½ cups icing sugar, gluten free
½ cup gluten free flour mix **(see note at end of recipe)
½ tsp baking powder, gluten free
about 1 cup berries e.g fresh or frozen blueberries, rasperries, sliced strawberries
Zest of one lemon (optional)
Method
Preheat oven to 175 degrees celcius.
Prepare a 12 hole friand tin by greasing well with the first measure of butter.
Melt the second measure of butter and set aside.
Place egg whites in a mixing bowl and whisk until frothy.
Add the ground almonds, icing sugar, the sifted flour mix, baking powder and finally the melted butter and lemon zest.
Whisk well to make a smooth batter.
Transfer mixture to a jug and pour into the friand holes. This is the easiest way to do this.
Arrange berries on top of each friand.
Bake for 20 - 25 minutes until lightly golden.
Leave to cool for 10 minutes before turning out onto a wire rack to cool.
We suggest serving with freshly whipped cream or yoghurt alongside your preferred cup of Stir Tea.
** This recipe is from my go to recipe book for Gluten free cooking and baking called: Goodbye Gluten, written by New Zealander, Sally Holland. The book contains a beautiful selection of sweet and savoury recipes for everyday and special occasions.
You will find Sally's gluten free flour recipe shared on her website: https://goodbyegluten.co.nz/gluten-free-flour-mix.html