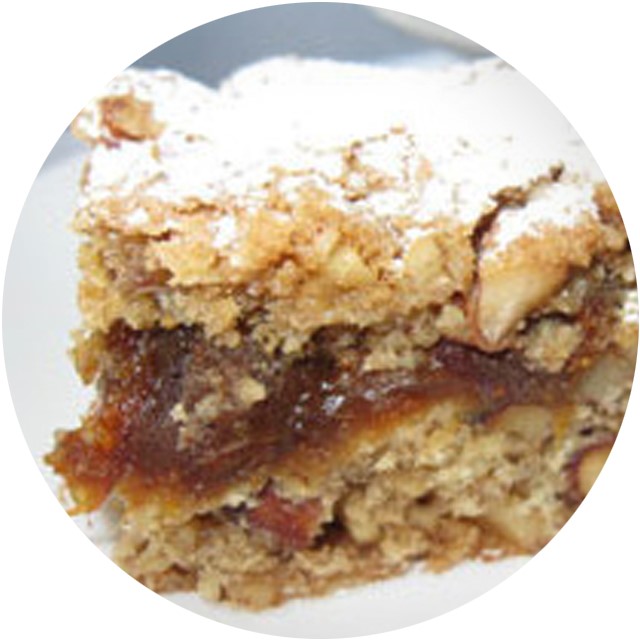 A stunning combination of texture and flavour - this is a perfect slice to accompany a cup of tea or bake for a gift.
Ingredients:
1.5 cups dates, chopped
1 cup dried figs, cut into quarters
100 grams dried apricots, roughly chopped
Juice and rind of 2 tangelos
1 cup water
1.50 tablespoons of brown sugar
250 grams butter
2 cups brown sugar
2 eggs
1 teaspoon vanilla
1.5 cups plain flour
1 teaspoon cinnamon
1 teaspoon nutmeg
1 teaspoon baking powder
2 cups rolled oats
1.5 cups almonds - roasted at 170 degrees Celsius for approx. 10 minutes then halved
Heat Oven to 180 degree celsius
Line a slice tin
Method:
Put dried fruit, tangelo juice and rind, water in a pot and simmer for 5 minutes. Remove from the heat and add first measure of sugar. Leave to cool.
Beat butter and sugar until pale. Add eggs one at a time then vanilla.
Sift in remaining ingredients, rolled oats and hazelnuts. Mix gently until combined.
Spread 2/3 of mix into your lined slice tin. Top with date mixture, then dot the remaining mixture on top.
Bake 40 minutes until golden and cake bounces back on touch test.
Let cool before slicing. This slice freezes well.
We hope you get a lot of joy from making and sharing this Fig & Date Slice over a cup of Stir Tea. Wishing you Happy Tea Times from everyone at Stir.