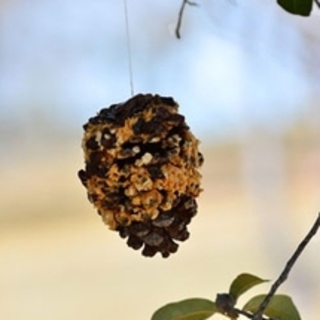 Next time you are out walking pick up a fallen pine cone to create your own natural bird feeder.
Ingredients
4.5 cups of suet
1 cup dried, crumbled wholemeal bread
½ cup of shelled sunflower seeds
¼ cup of millet seeds
¼ cup of raisins (or chopped, dried apples)
Method
Melt suet over a low heat in a saucepan. Once melted set it aside to cool down a little and thicken as it cools.
While suet is cooling take a large mixing bowl and mix together the remaining ingredients stirring well. Add the cooled and thickened suet to the bowl and mix thoroughly.
Stuff the mixture between the hard leaves or petals of the cones. Once the cones are full to the brim, hang them in the garden and enjoy your bird visitors over the following days.
We hope you get a lot of joy from making and sharing the pine cone pleaser. Wishing you Happy Tea Times from everyone at Stir.
A recipe from Rosemary Tully's book called:
Tea for the Tui, Fun Recipes to Entice birds to your garden.