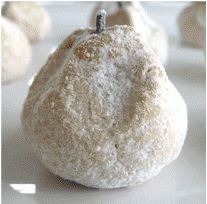 These elegant bites are a Christmas tradition for the Stir Family. They look divine and taste delicious.
Makes about 35 and keeps well for up to a month in an airtight container.
Ingredients
3 cups (480g) blanched almonds
¾ cup (165g) castor sugar
½ cup semolina approximately
3 egg whites, lightly beaten
2 tablespoons orange flower water
35 cloves
Icing sugar
Method
Process the nuts until fine, transfer to a bowl.
Stir in castor sugar, semolina, egg whites and orange flower water. Mix to a smooth, stiff paste. Add extra semolina if the paste is too sticky.
Shape level tablespoons of almond mixture into pear shapes.
Insert a clove in the top of each pear and place on lilghtly greased oven trays.
Bake in a moderate oven for 12minutes or until lightly coloured.
Transfer to shallow tray covered with grease proof paper.
While still warm dust heavily with sifted icing sugar.
We hope you get a lot of joy from making and sharing these Almonds Pears. Wishing you Happy Tea Times from everyone at Stir.